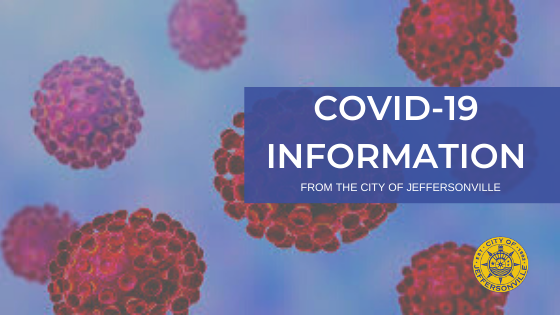 Jeffersonville Mayor Mike Moore signed an executive order implementing changes to city operations in response to COVID-19 including the closing of city hall located at 500 Quartermaster Court until further notice.
"We want to protect the public and our city employees.  We feel that limiting access to city offices is the most prudent thing to do at this time," said Moore. "We will still have employees working remotely to ensure that day-to-day operations of city government continue without interruption. Today with my executive order we have implemented an extensive operations plan that we are confident will help reduce the spread of the virus."
The following is a summary of Mayor Moore's order implementing the "City of Jeffersonville COVID-19 Operations Plan":
STAY AT HOME ORDER
Indiana Governor Eric Holcomb has ordered residents to remain at home except for essential errands through April 7.
GENERAL CITY OPERATIONS
City Hall will be closed effective at Noon today, except to hold scheduled pubic meetings that are deemed essential and critical to operations of city government.
City services will be available via phone, e-mail and online at cityofjeff.net.
All city employees will work remotely when possible.
Any and all non-essential employees unable to work remotely, as determined and approved by their supervisor, shall be paid pursuant to 2020-OR-21.
City offices and facilities will continue to be disinfected and sanitized.
City employees are encouraged to self-monitor their health and to act accordingly.
All garbage collection and other essential city services including public safety, street and sanitation, parks and green space maintenance and vehicle maintenance will continue as normal.
POLICE AND FIRE
Both police and fire departments will coordinate with 911 dispatch to screen all calls for possible contamination at which time first responders will take additional precautions if COVID-19 is suspected.
Both police and fire department will contract with third party to sanitize all facilities.
Both police and fire departments will screen employees prior to entering facilities.
Police department will adhere to its COVID-19 IAP (Incident Action Plan).
All community events with the police community outreach officer will be suspended.
All public traffic as far as unauthorized visitors to the police station will be prohibited.
PARKS AND RECREATION
The city's parks will remain open. Parks employees are implementing heightened cleaning protocols and social distancing.
The Ken Ellis Senior Center, the Spring Hill Envision Center, the Woehrle Athletic Center and the Nachand Fieldhouse will remain closed.
Parks will not be accepting rentals of facilities and shelters through April 5. All rentals through April 5 are cancelled.  People should call 812-285-6441 or email parksinfo@cityofjeff.net to reschedule an event or request a refund.
All permits for events through April 5 are rescinded.
ANIMAL SHELTER
Animal control officers will only respond to the most serious incidents involving a human and domestic animal in progress, or to assist first responders.
The Animal Shelter will remain closed to the public.
Adoptions shall be by appointment only by calling 812-282-0071.
PUBLIC MEETINGS
In compliance with Governor Holcomb's directive that all Hoosiers stay at home set forth in Executive Orders 20-08 and 20-09, the City of Jeffersonville will conduct all scheduled public meetings electronically. City Hall will remain closed for public meetings through April 6th or for the duration of the Governor's directive. Public Meetings will take place to address critical and essential matters necessary for governmental operations.
PLANNING AND ZONING
Applications for zoning matters are online at cityofjeff.net.
Plans and applications for zoning matters may be submitted online, by e-mail (CReischl@cityofjeff.net) or left in the in the Sewer Billing Department's drop box located at the front entrance of City Hall.
Any application fees may be paid over the phone (812-285-6413) or mailed to the Department of Planning and Zoning, P.O. Box 1588, Jeffersonville, IN 47130.
Plan Commission and Board of Zoning Appeals meetings for March are cancelled.
BUILDING COMMISSION
Applications for permits and contractor's license can be found at www.cityofjeff.net.
Completed applications may be submitted by e-mail (LWallace@cityofjeff.net) or left in the Sewer Billing Department's drop box at the front entrance of City Hall.
Payments can be dropped off through the drop box or mailed to the City of Jeffersonville Building Commissioner, P.O. Box 1588, Jeffersonville, IN 47130.
Inspections including code compliance will be handled on a case-by-case basis with primary focus on external inspections.
SEWER BILLING
Sewer utility payments can be processed online at cityofjeff.net, by dropping off in the mail slot located at the front entrance of City Hall or located behind City Hall in the driveway leading to 12th Street, or by sending them in the mail to the Jeffersonville Sewer Utility Billing, P.O. Box 1588, Jeffersonville, IN 47130.
Beginning for payments due in April, the city will not assess late fees until the state of emergency is lifted by the Governor.
Fees associated with credit card payments will be waived until the state of emergency is lifted by the Governor.
The city will abate any enforcement of delinquent sewer bills until the state of emergency is lifted by the Governor.
"I understand and realize there is much public apprehension and uncertainty right now. I can assure the citizens of Jeffersonville that its city leaders are focused on ensuring that essential city services continue while protecting the health of the public and our city employees," said Moore. "We're taking the advice of the medical experts by implementing a plan that is proactive so that happens. In the meantime, I urge everyone to stay calm, but to also take this situation very seriously."
Mayor Moore cautioned everyone to take the following precautions to help minimize COVID-19 exposure:
Stay home unless you need to seek medical care.
Avoid public areas and public transportation.
Practice social distancing by keeping at least 6 feet from another person.
Refrain from congregating in groups larger than 10.
Stay away from others as much as possible, especially people who are the most at risk such as older adults with multiple medical problems and those with a weakened immune system.
Don't shake hands.
Seek prompt medical attention if your illness is worsening such as difficult breathing and call your doctor or healthcare facility before seeking in person care.
SMALL BUSINESSES
Governor Holcomb announced that Indiana small businesses are eligible for financial assistance under a disaster designation by the U.S. Small Business Administration.
Click here for more information. 
JEFFERSONVILLE MAIN STREET 
Let's all continue to support our local businesses any way we can during this COVID-19 outbreak.
Click here for more resources. 
UNEMPLOYMENT
In response to the COVID 19 virus pandemic, WorkOne Southern Indiana is taking actions to safeguard WorkOne staff and customers while maintaining services to the extent possible.  These actions are consistent with guidance from the Indiana State Department of Health (ISDH) and the Center for Disease Control (CDC) and have been coordinated with the State Department of Workforce Development (DWD).
Click here for more information.