Mayor Mike Moore presented his 2013 State of the City Address, "The Future Starts Now", to the Jeffersonville Rotary Club and its guests on February 04, 2014. A summary of the Mayor's speech follows. The full version of the speech is available here. Click here or the video below to see Mayor Moore deliver the full address.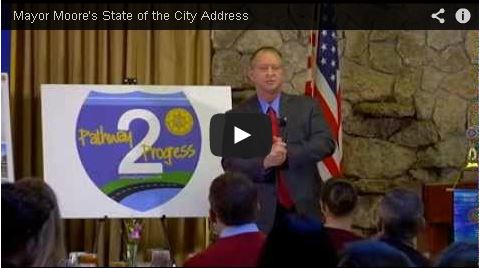 "Today you look around Jeffersonville and can't help but see the progress we're making. Our City is on the move!" said Mayor Moore.
Mayor Moore began his State of the City Address with a review of his administration's key projects and accomplishments of the past two years, including the five Pathway 2 Progress projects and ways they will benefit The City of Jeffersonville.
Construction has begun on the new Ohio River Bridges. The East End bring will bring more growth and development to the River Ridge Commerce Center and The City of Jeffersonville's East End.
Vacant buildings have been re-purposed to become the Vintage Fire Museum and the Clark County Museum: a step towards creating the city's first arts and cultural district.
The Jeffersonville Public Arts Committee has been working on various cultural projects to highlight art in the city, led by a new, innovative public arts administrator.
In the last 24 months, nearly 2,500 new jobs have come to Jeffersonville as well as new businesses including Amazon and Catamaran.
The steel manufacturer Voss Clark is investing nearly $12 million to expand their operations in the Clark Maritime Center.
Jeffersonville was named the fourth best place in Indiana for job seekers.
Jeffersonville was ranked among the best in the State to raise a family.
Mayor Moore' administration's strategy is to keep taxes low while making Jeffersonville a great place live and raise a family is creating a business-friendly city that is a good place to live and work
with top quality schools, exceptional medical care, diverse recreational opportunities, good roads, clean water, and effective public safety.
Jeffersonville's new Vissing Park opened in 2013 and Jeffersonville residents are now enjoying its open green space basketball courts, baseball, softball fields, walking trails and playgrounds.
The new Woehrle Soccer Complex on Charlestown Pike is now in development and will include six soccer fields – two of them for football including an artificial-turf field. And an indoor athletic facility at the complex is in the planning stage.
Jeffersonville was able to preserve the last open green space along our Riverfront with the purchase of the land next to Duffy's Landing that will be developed to create a new boat launch at Duffy's Landing and address safety concerns along Utica Pike.
Mayor Moore reviewed his administration's plan to build a new downtown marina, a key component of Jeffersonville's future. Jeffersonville is a river city, the Ohio River is its greatest asset and its river's edge is in disrepair. Construction will begin this summer including overhauling the boat docks, increasing the number of boat slips, extending a new fishing pier 200 feet over the Ohio River and adding transient boat slips so that boaters will be able to conveniently "dock, shop and dine" in downtown Jeffersonville.
The Ohio River Greenway project will be completed in the next two years making Jeffersonville more friendly to walkers and cyclers.
Jeffersonville's first city park in the annexed area will open this summer at the corner of Allison Lane and Middle Road. The park is designed to be family-friendly with walking paths, a playground and recreational space and a community gardens area.
In 2014, the opening of the Big Four Bridge will bring thousands new people to discover Jeffersonville's downtown shops and restaurants.
Construction is underway at Big Four Station – a park at the foot of the bridge with two blocks of green space, a playground, pavilion and water feature.
A new streetscape has improved Chestnut Street.
Private development is in progress near Big Four Station at the old Rose Hill School which will include condo and retail space and other new downtown restaurants are in the planning stages.
Mayor Moore reviewed his administration's recommendation that now is the time to privately develop the prime real estate Colston Park along Mullberry due to the land is vacant and The Parks Department no longer utilizes the park.
With the opening of the Big Four, and as part of the Belle of Louisville's 100th year celebration, Jeffersonville's Steamboat Days Festival will return in 2014.
On Veterans Parkway, Boombozz Pizza is open, Culver's is scheduled to open next month and plans have been approved for a new 750,000 square foot Menards that will anchor Jeffersonville's side.
10th Street revitalization is now underway and Mayor Moore believes now is the time to upgrade 10th Street by creating wider lanes, and adding a turning lane to accommodate increased traffic to River Ridge and other businesses along the way as well as new sidewalks, landscaping and lighting to create a pedestrian friendly area. Over the next several months, land acquisition will start for the project with construction scheduled in 2016 and a private company will develop the city's gateway entrance which will include three restaurants, two hotels and a park.
And with all of the growth happening, Jeffersonville is investing in its infrastructure. With River Ridge developing quicker than expected and the new east end bridge just under construction, Mayor Moore' administration is also working with state officials to make improvements to Highway 62 including turning lanes at Utica-Sellersburg Road.
Mayor Moore emphasized that administration's agenda for Jeffersonville is ambitious and Jeffersonville can be confident that it will be accomplished with the same fiscal discipline that has helped Jeffersonville recover from the recession with a budget surplus.
Mayor Moore is proud to report that The City of Jeffersonville ended last year with a surplus of $9 million!
When Mayor Moore administration began two years ago, there was approximately $1.8 million in Jeffersonville's TIF districts. Today Jeffersonville TIF districts have a balance of more than $13 million.
Taxes have not increased and Jeffersonville will continue to live within its means without burdening the taxpayer.
Mayor Moore ended his presentation by thanking everyone for allowing him to serve and urging the City of Jeffersonville to keep the momentum going toward a better future for everyone.